Ancient: Some of the antiques dating back to the Trần Dynasty in the 13th century, that are displayed in Phương's house.
Viet Nam News

Since 1985, Võ Thanh Phương has traveled the world in search of old cultural artefacts. His collection includes 1,000 antiques representing Việt Nam's history. Vĩnh Trọng & Mai Khuyên report.

Võ Thanh Phương's house in the central province of Quảng Ngãi's Tư Nghĩa District is small and simple, just like any other houses in the area.

But what's inside will surprise any visitor.

What stands out here is not furniture or anything particularly expensive, but hundreds of historical and cultural artefacts displayed in every corner of the house.



Phương's priceless property – a collection of over 1,000 antiques from different periods in Việt Nam's history – is the result of some 35 years of tireless travel across the country and abroad collecting ancient vestiges.

Phương, 57, who works as a part-time music teacher in primary schools in the province, started collecting antiques in 1985. He has spent all of his income purchasing ancient items, particularly during his travels.

"Whenever I heard any information about any antique, I was ready to travel to collect it, even if it was located far away or owned by the most fastidious to negotiate," said Phương.

He started by collecting simple items, such as ancient coins and paper money of Indochina including Việt Nam, Laos and Cambodia, and China.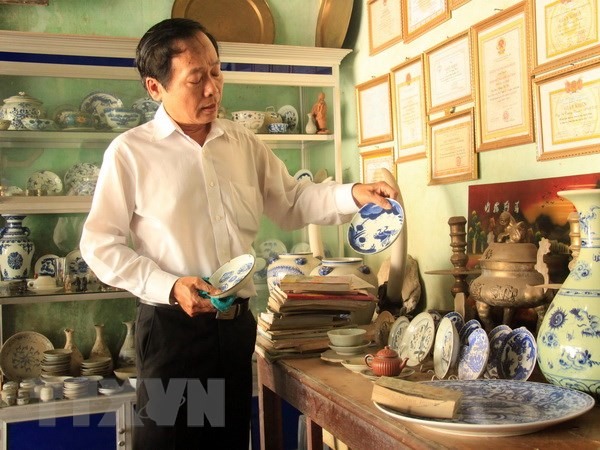 Showing off: Teacher Võ Thanh Phương introduces his collected antiques. VNA/VNS Photos Phước Ngọc

Phương said he invested a lot of time to look up the contact information for the artefacts' previous owners. He then travelled throughout the country to meet them and negotiate for the items.

He says social networks, especially Facebook, have helped him to approach and join groups of collectors in the country and abroad.

"On Facebook, Zalo or Instagram, I can discuss, share information and even negotiate for the artefacts I am interested in," the collector said.

Learning through trial and error

For an amateur collector like Phương, it was a challenge for him at the beginning, as his lack of experience increased the likelihood he would get cheated.

"In the early days, ignorance of the real value of the artefacts had put me in bad situations, such as purchasing fake artefacts. But it was never a hindrance to my passion," Phương said, adding it took him more than 10 years to gain experience in distinguishing the real artefacts from fake ones.

According to him, one-fourth of his collection is ancient Vietnamese and foreign ceramic products, among which many items date back thousands of years, with unique historical and cultural value.

His ceramic collection includes 1,000-year-old ChineseTang Dynasty plates and a 500-year-old Chu Đậu rice bowl from the Lê Dynasty.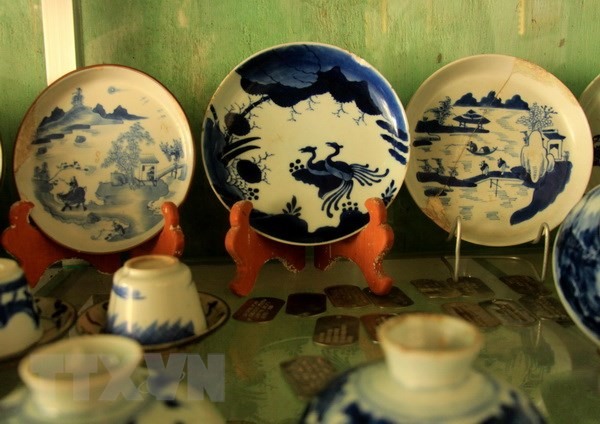 Blue and white: Ancient Plates and bowls from the Lý Dynasty in the 11th century are among the most precious items in Phương's collection.

Phương says he can identify the antiques from their colours. For example, the antiques of the Lê Dynasty are often white or blue, while those from the Lý Dynasty were blue-brown and those of the Trần Dynasty are yellow.

He said the antiques were scattered in different areas as most of their initial owners were princes and princesses, who had brought the artefacts with them when they got married and later travelled around the country. The antiques were often gifted to them by their parents.

They were also sometimes gifted to mandarins when they retired, in recognition of their devotion to the royalty. These mandarins brought the ancient items with them to their native places when they quit the royal court.

"That is why the antiques that originated in a certain area at a certain time can be found in different areas," said Phương.

He developed a special interest in collecting ancient ceramics and the more he did, the more he found them to be unique and rare.

"I spent most of my time collecting ancient ceramics, but it made up only one-fourth of my collection. I found that wars and their social impacts considerably damaged the artefacts, said Phương.

Another challenge he as well as other collectors in the country faced was the trend of antiques "bleeding" towards overseas or the spreading of antique smuggling around the world.

Selfless contribution                                    

Although antiques hold a very important place in Phương's heart, he has never kept the artefacts to himself, unlike some other collectors who use their collection as a means of entertainment or to make money.

"Sometimes I had to sell out some of the items but just in cases for doing charity works or support of my work and family," according to Phương.

The collector said he was happy to contribute many of his collection to museums.

The proof of his humble gesture is the reduced number of artefacts in his collection, from 1,000 items initially to the current 500.

Along with the antiques displayed in his house are certificates from museums for his contribution.

Many of the artefacts are now displayed in museums throughout the country, enriching the national historical value.

Phương's contribution has been highly appreciated by industry experts both within and outside the province.

He has been awarded a certificate of merit by the Quảng Ngãi Province's Department of Culture, Sports and Tourism and the Cultural Heritage Association in recognition of his contribution to the preservation of the province's history. — VNS